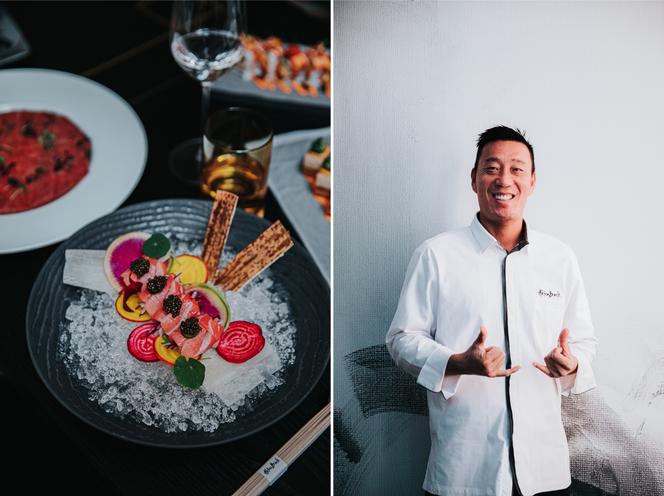 "Shine bright like a diamond"… Rihanna's voice echoes in the darkness of the restaurant. From the top of his platform, the DJ observes the customers seated around tacos, fried rice and Pepsi: some are already undulating their shoulders in rhythm. A festive scene that takes place… in a Parisian palace! And not just anyone: the Prince of Wales, who, three years ago, was part of the Parisian culinary elite with his two Michelin stars obtained by chef Stéphanie Le Quellec.
Here, the time is no longer for high French gastronomy. Instead, the Marriott group hotel inaugurated Akira Back's first restaurant in Europe in mid-January. This seasoned American-Korean chef, who already runs sixteen other addresses around the world, advocates limitless fusion cuisine, mixing Europe, Asia and America. On his plates that we peck with disposable chopsticks, we find fat, acid, salt: in short, comfort. The foie gras sushi is drizzled with ponzu (lemony soy sauce), the fried shrimp coated with mayonnaise "kochujan" spicy, the pizzas tiled with slices of tuna and black truffle… We don't really know where we live, but, this January evening, the clientele – rather young – is already numerous at the first service at 7 p.m. and seems satisfied .
At L'Ecrin, instead of choosing dishes and then the drink that goes with them, you first decide on a bottle, then let yourself be guided by the chef, who imagines a surprise menu in tandem with the sommelier.
A decade ago, such a scene would have been unthinkable. The palace gastronomy did not show relaxation, busy as it was to win Michelin stars. Two at least, three even better, and even more to show off, like the George V which in 2016 obtained five macaroons in total for its three restaurants.
The palaces, located in a restricted perimeter of the right bank between the Place de l'Etoile and the Louvre, offered a very high-end but ultimately quite similar gastronomic offer, variations around modern French cuisine. Great chefs such as Alain Ducasse, Christian Le Squer or Eric Briffard had embarked on a game of musical chairs, moving from one establishment to another, each time managing huge brigades, showing the capacity of the hotel to produce the exceptional. "For years, chefs weren't bothered by management control", summarizes the consultant Nicolas Chatenier. The question of the profitability of the restaurant did not arise, it was the showcase, financed by hotel rooms. It was also the place where we invested in young talents, where Jean-François Piège and Cédric Grolet were able to gain momentum.
You have 70.99% of this article left to read. The following is for subscribers only.