The Maxim Pasta pasta factory celebrates its 100th anniversary this year. A family success that spans four generations.
For a century now, in the heart of the town of Esch-sur-Alzette, at 23-25 ​​rue du Canal, a pasta factory has resisted the invader, whether it be called Barilla or Panzani! Maxim Pasta, the Luxembourg factory, is indeed celebrating its 100th anniversary this year, just that.
Maxim Pasta is the story of a success above all family: it was in 1922 that the Crescentini family, originally from Umbria (in central Italy) bought what was previously only a grocery store to found what became the country's first pasta factory.
Success is indeed quick to come, especially since Italian emigrants who have come to work in the mines of the region are legion and happy to be able to rediscover the native flavors.
But how long ago the days when pasta was produced here by hand by 45 employees and packed in kraft paper bags seem a long way off!
Today, there are only ten of them working within the walls of the factory, administration included: everything is automated, from manufacturing to packaging. Only the packaging in boxes remains manual and an employee is enough to follow the pace of the machine.
One hundred tons of pasta per month
Three production lines (one dedicated to long pasta, such as spaghetti, and two dedicated to short pasta, such as penne) ensure the production and packaging of some 450 kg of pasta per hour, or 100 tons per month.
The company offers nearly forty kinds of pasta, including those for soup, such as angel hair, which are a hit in winter and which many competitors have abandoned.
Every day, 1,500 km of spaghetti are also produced – "the equivalent of a trip to Rome!" laughs Dario Battestini, the technical director of Maxim Pasta.
Despite this modernization, in a hundred years of existence, the company "has never laid off a single employee", welcomes Dario Battestini. "People have spent their entire careers here. We even had an employee who started there at 15 and stayed until retirement!" adds Max Stoisa, managing partner and great-grandson of the factory's founder, Max Crescentini.
Himself, 66 years old today, joined Maxim Pasta in 1979. It was "obvious" for him to follow in the footsteps of his father, his grandfather and his great-grandfather. dad.
Raw materials from Italy
Times may have changed, but the values ​​have remained the same: altruism (every fortnight, pasta is provided to Caritas) but also and above all the quality of the products remains essential, out of respect for customers. , whom the leaders never cease to thank for their loyalty.
The wheat thus comes from Italy, as do the tomatoes – "much better than those from China!", where the competition is supplied, underlines the boss. "They are washed, peeled, and contain no pesticides. We go there regularly to carry out checks," says Dario Battestini.
As for the eggs, pasteurized and kept at a temperature of 2°C, they come from several farms located in Italy, Germany or France. "We cannot afford to have a single supplier in the event of bird flu. On the other hand, all our eggs come from hens raised on the ground, we care about the well-being of the hens!", he continues.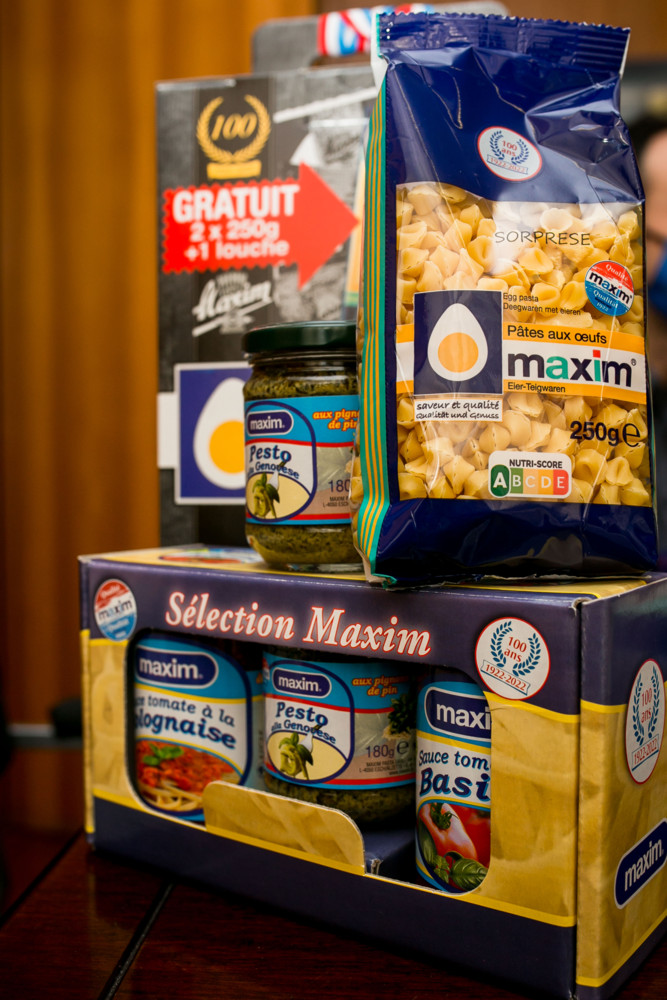 In addition, to preserve the nutritional qualities of the pasta, it is dried at a maximum temperature of 60°C, when manufacturers go up to 140°C. So of course, the operation is longer in the Eschoise factory: it takes eight to sixteen hours to finalize a packet of pasta.
But the result is unequivocal: egg pasta, of which Maxim Pasta is the leader in the Grand Duchy, has a beautiful clean color, holds up well during cooking and has retained all of its proteins.
Even the packaging is thought out in this spirit, no offense to those who would like to see it replaced by cardboard: the packaging is made of a double plastic film (recyclable) and the writing is written on it "in a sandwich", that is to say between the two films, so as not to transmit the mineral oils to the pasta.
"Of course, this double packaging costs more than a single box. But with cardboard packaging, pasta can absorb humidity or ambient odor, or even liquid if the cardboard is wet! We prefer to bet on the good quality of our product", explains Dario Battestini.
Work galore during the crisis
Maxim Pasta is present in all stores in the country and also supplies restaurants through La Provençale, under the Lux Pasta brand. But if these establishments suffered from the health crisis, for Maxim Pasta, it was quite the opposite.
Not only has no employee contracted covid, but in addition orders have increased sharply, with customers rushing to staple foods: at least a 25% increase, estimates Dario Battetini. "All the pasta shelves were empty, except ours! We were proud! We worked overtime to ensure deliveries.
Unfortunately, what weighs today is the price of wheat, which exploded due to bad harvests: "It went from 420 euros per ton to more than 800 euros! And it continues to increase," laments the technical director.
Luxembourg as main client
If the factory has taken on these costs since August, it has decided to increase the price of its products this 1er February, from 17% to 18% on average.
A decision that visibly displeased a Belgian chain of stores based in Luxembourg: "All the brands have increased their prices, but this distributor refuses it for us. Never mind: we will no longer sell to them, "warns Dario Battestini, who calls on the government to support small businesses against the big manufacturers who have a monopoly.
Especially since this partnership is an aberration from an ecological point of view: "As they no longer have a plant in Luxembourg, they demand that we transport our pasta – at our expense – to their plant located in Belgium, so that it these are then redistributed in Luxembourg!".
The Grand Duchy remains Maxim Pasta's main customer – and by far. The company also supplies Belgium, but this only represents 10% of its market. However, Maxim Pasta does not want to expand or seek to gain ground beyond the border: "The bigger it is, the more worries there are and dependence on large customers. And then, we prefer to stay at home!", concludes Max Stoisa.
100 years is something to celebrate!
On the occasion of this exceptional anniversary, Maxim Pasta has decided to spoil its customers. On the menu: promotions and new products to discover next week in store.
Gourmets will be able to enjoy new sauces as well as egg pasta specially created for the occasion: sorprese ("surprises" in Italian), kinds of mini-tortellini which open slightly when cooked.
Follow us on Facebook, Twitter and subscribe to our daily newsletter.
.