Nostalgia often has the particularity of making us fall for products that remind us of our childhood. Many play by offering recycling without large scale. But with TMNT: Shredder's Revenge of Tribute Games, Dot Emu and Just For Gameswe feel that those who are in charge of the project have put their hearts to work to bring us a new adventure from the Ninja Turtles on consoles in line with the Konami episodes while bringing enough modernity to make it a game in the era of time. But since Dot Emu had already released Streets Of Rage 4 very good, and Tribute Games is known for its beautifully animated 2D games, who really doubted it?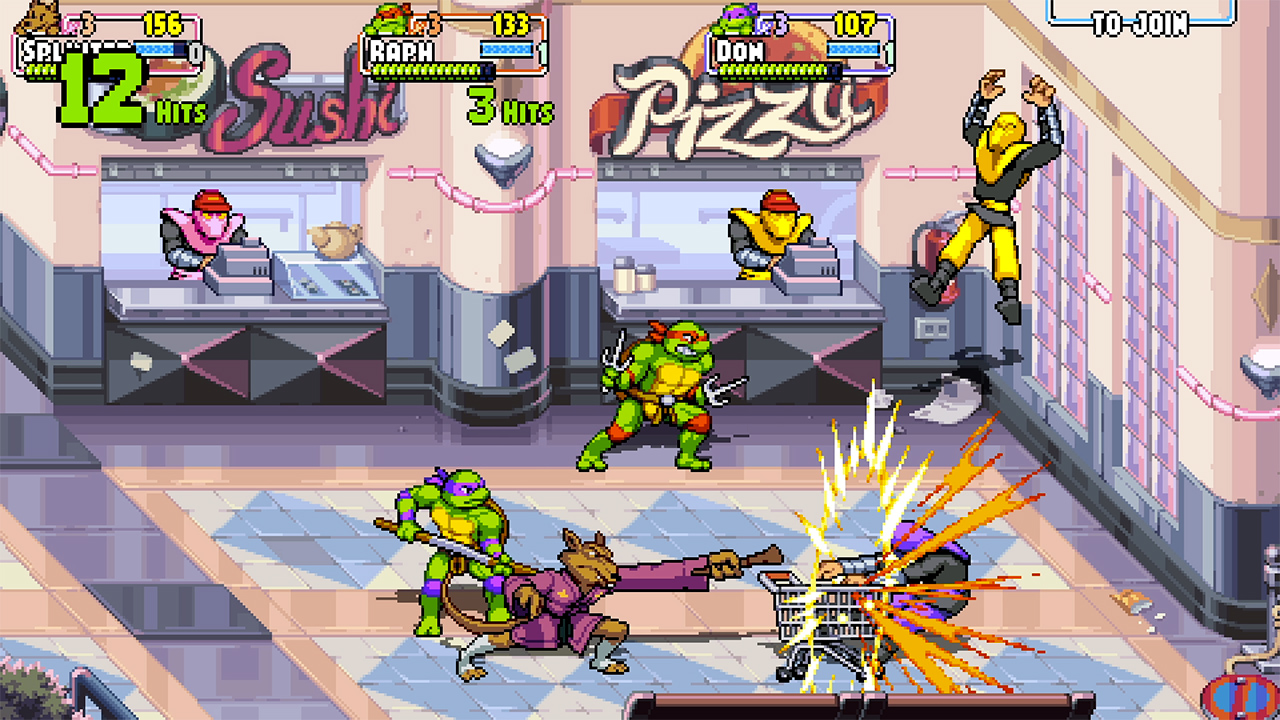 Sorry Raphaël your April is in another level
Teenage Mutant Ninja (Hero) Turtle: Shredder's Revenge – of its full name – is as indicated above a spiritual successor to the arcade and console hits of Konami (which just comes out to us TMNT: Cowabunga Collection to better see the evolution). As such, it is also a beat'em'all (or Beat'Em'up if you prefer) in 2D with a depth effect. After a very nice animated intro sequence setting the mood, the game opens with a menu offering a story mode, an arcade mode, a tutorial, a list of ingame achievements and options. The latter offer, among other things, an adjustment of the sound balance, the language (including French) and a remapping of the keys. In addition to the options listed, pressing the X key allows you to create an online group and invite friends to it before starting any game. We naturally go first to the story mode which places you on the map of the city with roads between each level and sometimes alternative paths to characters that you have previously saved in the levels. The latter will offer you special requests which generally consist of finding collectables hidden in the stages. You will be able to do and redo the levels as you wish not only to find these precious ones, but also to try to succeed in the 3 challenges offered at each level (including the inevitable "finish the level without being hit"). This story mode consists of 16 chapters, which is much longer than what Konami had accustomed us to. Fortunately, most are relatively short. At least the variety of settings and situations is there. Note that this mode is not very difficult, since it resets a number of lives each time you enter an area of ​​the city.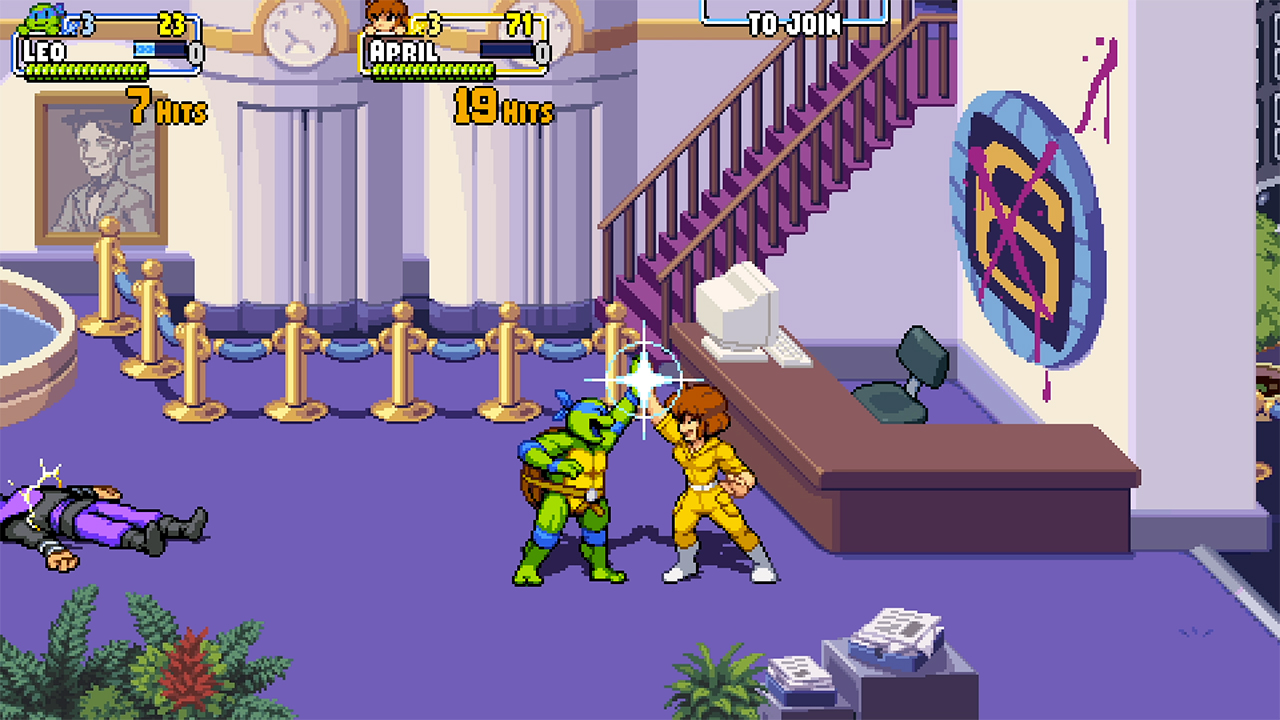 Turtle Power
Once the story mode is over, it's time to take a little interest in the arcade mode, closer to the original spirit. Here a limited number of lives to finish everything (with the possibility of winning with the score all the same). We pass successively in order by all the levels of the story mode until tataner once and for all this silly Shredder. Apart from the absence of a card, the management of lives and a nuance at the level of the super bar (we will sell there), the game takes place in the same way. Anyway, that's what we're here for: give a beating to the football clan, and if possible to several. Indeed, if Konami's games were limited to 4 players in the arcade and 2 players on consoles, the title of Tribute Games lets go and offers us ultra chaotic games up to 6. How the hell is it possible to play 6 while there are only 4 turtles will you ask me my good lady? Well before your amazed eyes it is also possible to embody for the first time (except in versus fighting games) the friends of our turtles namely Splinter, Casey Jones, and – more surprisingly – April O'Neil who probably had enough of being captured and started fighting. This possibility is obviously offered in arcade mode as a story. Note that the experience is clearly different depending on the number of players. Solo, we concentrate more easily, with 2 we help each other, with 3 or 4 we launch strategies, but with 5 or 6 it's just the Bronx (literally and figuratively). In multiplayer, when a player loses a life, they are knocked down for a 9 second countdown. Another player can try to stand nearby to pick him up, which will save his life and restore some energy. With two it is extremely difficult because the remaining player will attract all the attention of the enemies and will therefore be vulnerable during the attempt. Hence the interest of having at least one other player to protect the backs. Another possibility for several: typing in the hand of a poto will transfer two units of vital energy to him if he is weaker than you.

The fable of the rat and the turtles
Gameplay level the game clearly takes up the basics of previous games, while making everything smoother and bringing a good dose of energy. It's quite obvious when you come to end all the games of the Cowabunga Collection, Dot Emu knew how to keep the best and improve it further. For example, we ignore some of the jumps whose attack depended on the height at the time of pressing the key, and instead we keep the rush down as standard, and a special attack in the event of double presses the skip key beforehand. We also add a jump attack upwards, then downwards by pressing the attack and jump keys at the same time. Good news, we do not lose life by performing this manipulation as too often in the beat'em'all. The race is done directly with a double tap on the left or the right (which can be chained with a slide or a kick), but it is also possible to run in a direction with a dodging movement which is just as defensive than offensive. We can thus dodge certain attacks before counterattacking, pass behind enemies protecting themselves or simply make a big opening dash before sending combos. For tight glued, this new opus offers a more instinctive and traditional system. just stick to an enemy to grab him like a Streets Of Rage. Then, depending on the direction chosen with the blow, we can send it rolling, swinging it from left to right in the manner ofAsterix or have it Zoom in on the screen as on Super Nes. When the bar to the right of our character's name is full, it is possible to perform one of the 3 super attacks (normal, jump and dash). To fill this nice little gauge, it will be necessary to chain the attacks or better still: launch a small provocation between two waves of enemies. In story mode this gauge can go up several notches to store uses, and launch a Radical mode for 3 gauges. This mode dramatically increases the character's stats (hence its name) over a period of time. To be honest, we use it very little, because it is more profitable to keep super loads.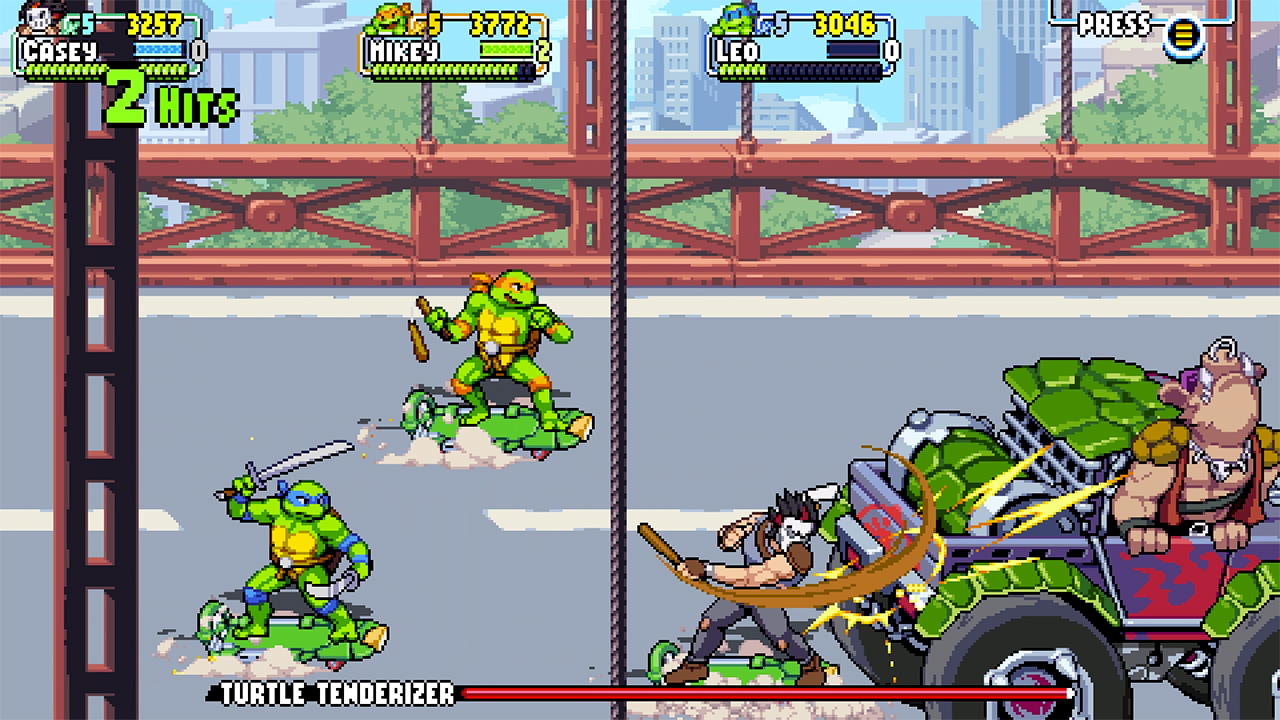 My own opinion
Teenage Mutant Hero Turtle: Shredder's Revenge is a title that smacks of nostalgia, but knows how to be modern with new mechanics, a story mode to peck at your own pace and especially local and online multiplayer at 6. Without revolution, it knows how to take the best of the license and perfecting it to make it the best episode of the series to date. And what's more, it's a feast for the eyes and ears, so what more could you ask for?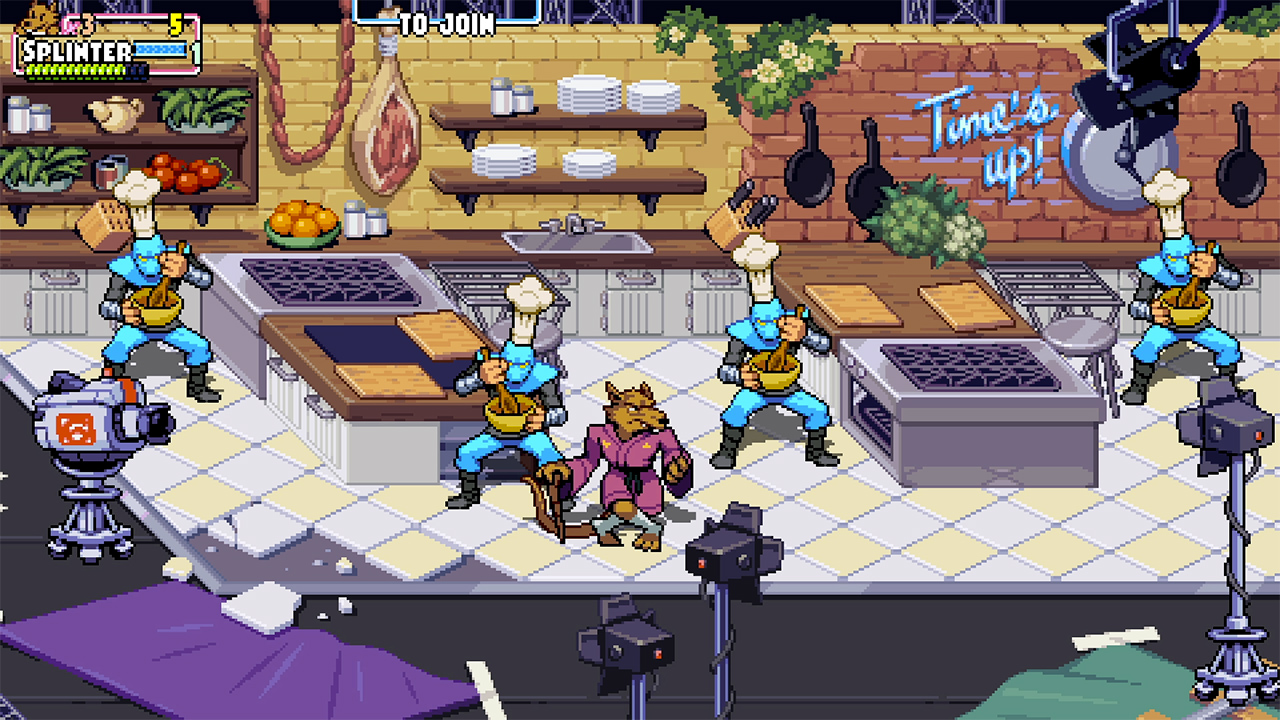 Who is TMNT: Shredder's Revenge for?
– To Teenage Mutant Ninja Turtles fans
– To beat'em'all fans
– For those who appreciate beautiful, polished 2D
Who is TMNT: Shredder's Revenge not for? ?
– For those who don't like pizza, especially not Hawaiian style
– For those who prefer Punk frogs
– For those who expected to defuse mines under water
John Barnaud a.k.a Kelanflyter