For 6 persons
Ingredients :
160g polenta
some button mushrooms
1 zucchini
1 small bell pepper
1 red or yellow onion
1 handful of cherry tomatoes
100g tomato sauce
100 g grated parmesan
some fresh or frozen parsley (optional)
fresh or dried savory (or oregano)
olive oil
salt and pepper
Step by step
Preheat the oven to 180°C (th. 6).
Cook the polenta in salted water following the instructions on the package.
Oil a large pie dish and pour the polenta into it. Level and let set while you prepare the other ingredients.
Slice the mushrooms, zucchini, pepper, onion. Cut the cherry tomatoes in half.
Spread the tomato sauce over the polenta, sprinkle with parmesan then arrange all the vegetables and herbs on top.
Season with salt and pepper, add a drizzle of olive oil and bake for 15 minutes, just enough time to grill the vegetables slightly while leaving them slightly al dente.
Did you know ? Made from cornmeal, polenta is a gluten-free food. Cook it in water or cut with milk and do not hesitate to add herbs and spices to give it taste. Once cooked and cooled, brown it in slices in a pan with olive oil.
Shopping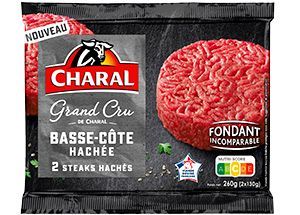 Grand cru low rib minced Charal. €4.45 (2 x 130g), GMS
Foodette offers you ready-to-cook recipe baskets and large glass jars from the brand Philie & The Jar. 100% artisanal recipes. From 45 € (delivery everywhere in France), foodette.fr
Super Raccoon hazelnut and cocoa organic children's biscuits Belledonne. €1.70 the 100g. organic stores, sold in bulk.
Brocamole made with French organic broccoli, white beans and coriander The V workshop. €3.95 (150g), organic stores
Mixture of pasta and vegetables Thai wok and coconut curry sauce to fry. Florette Fresh Ideas. €3.90 (425g), GMS
>> to read
7:25 p.m.! What are we going to eat? – 80 healthy, easy and quick recipes, by Marie Chioca (texts and photos). Living Earth Editions.
Out of ideas? Author, creator and culinary photographer, Marie Chioca offers 80 healthy, simple and quick recipes classified by situation: family of morfals, empty fridge, in chrono mode, batch cooking, detox dinner and evening desserts. The recipes give pride of place to vegetables and raw ingredients to concoct nutritious and digestible dinners, Ideal for saving time in the kitchen!
VÉRONIQUE BOUTILLIER DE SAINT-ANDRE