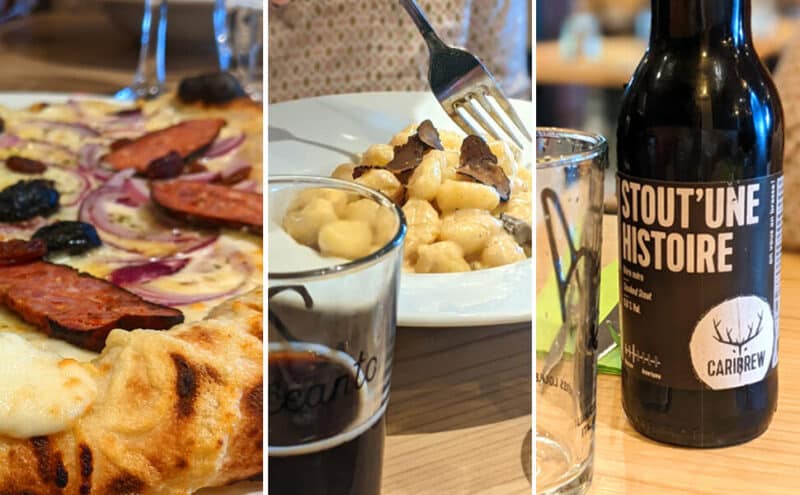 Haaa Jean-Jaures!
This district is booming, but there is still a lack of simple and good places to eat between noon and two without breaking the bank. Same observation for the afterwork. The commune, Tank and the Maison Bleue are excellent addresses, but sometimes you want a change of scenery.
Whether it's for large convivial tables at lunch break or aperitifs on the terrace to unwind after work, this pizzeria in the Jean-Jaurès / La Mouche district has everyone in agreement.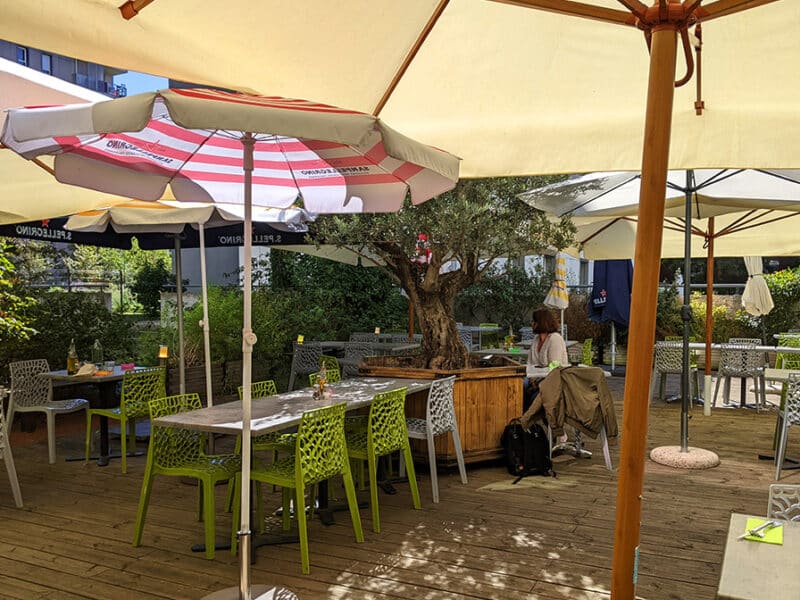 In addition, Accanto has implemented eco-responsible solutions on a daily basis to reduce its ecological impact. (compost, sorting of waste, limited transport…) and it is not made to displease us!
An Italian menu, locavore trend
Italian products must remain Italian of course! Parma ham, tallegio (PDO cheese from Lombardy), burrata, IGP olive oil are carefully selected. But the other ingredients are very regional. Cream from Bresse, eggs from the Monts du Lyonnais, mushrooms from the region… We eat locally and in season.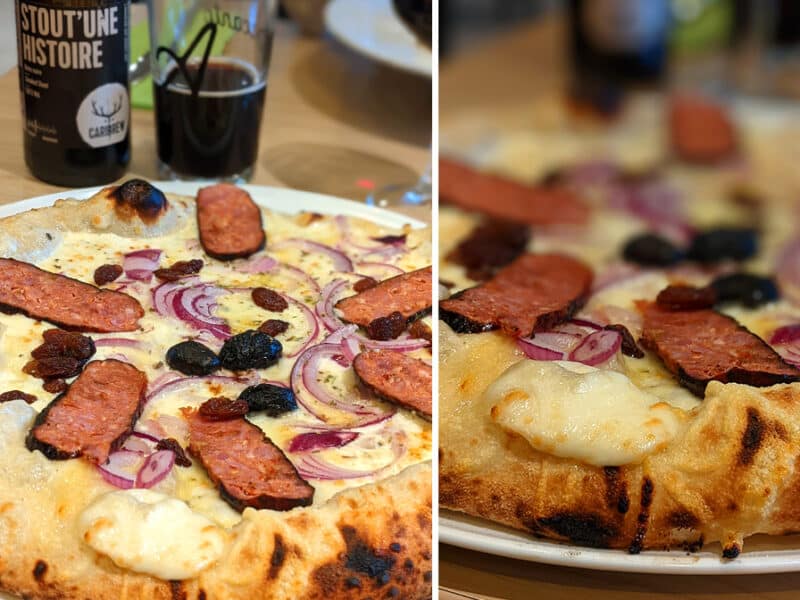 The pizzas are simple, good and generously garnished.
Some might surprise more than one. Take for example, the "Cow", daring to combine Scamorza and Fourme d'Ambert. Are you offended? Not what though! The recipes are designed to please and amaze.
That afternoon, I try the Spicy Roast with its Bresse cream, spicy Italian sausage and soft raisins. This pizza is the combination of strength and softness. And each bite follows but is not alike.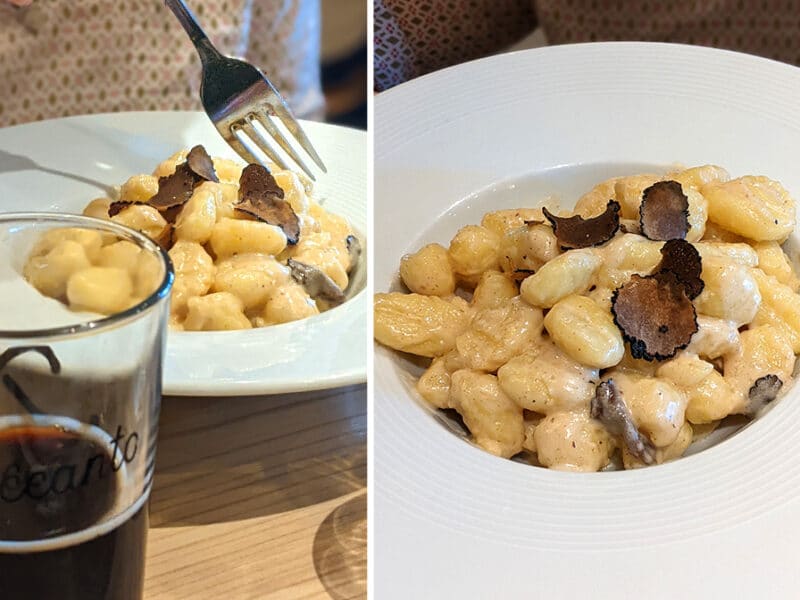 My colleague pounces on the gorgonzola and truffle gnocchi that I hasten to peck on his plate.
A "good for families" dish, hearty and comforting at the start of autumn.
Food and beer pairing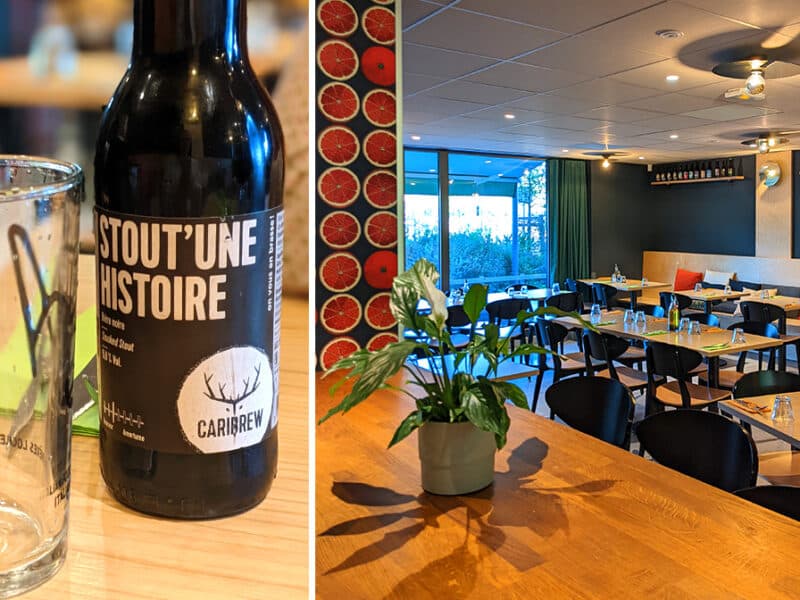 Accanto's good idea is to suggest a different beer for each dish. Burrata and olive oil from Sicily with a white silky weiss (Vénissieux), Croque with truffles with Sapa IPA (1st arrondissement), Chickpea Hummus with Canute Vieux lyon Noire (Croix-Rousse)…
I imagine by the evening of the elaboration of the map… Besides, if the team needs help, I volunteer!
✌ More info! ✌
Brunch (€28 and €15 for kids) is an all-you-can-eat Italian sweet/savory buffet,
with a mini pizza of your choice and a drink (which ranges from coffee to spritz to beer)
In summary
Good beers and good pizzas, a large quiet terrace and a locavore spirit… More than a pizzeria, Accanto is a place of life and conviviality in a corner that is still a bit soft and out of the way (word of Croix-Roussien). The kind of address we would all like to have downstairs. Besides, Accanto means "next to". Coincidence?



ACCANTO
💰 pizzas and dishes between 15 € and 19 €
🏠 12 Rue Pre-Gaudry, 69007 Lyon
🚇 Metro B, Jean-Jaures
🕐 Open from Saturday evening to Friday evening
📞 04 72 70 46 76
♿ Accessible restaurant
🥡 Take-out and delivery
💻 https://accanto.fr/
📸 Follow Accanto on Instagram