To accompany the Apple Watch Series 8 and SE 2, Apple has unveiled its new connected watch for extreme sports: the Apple Watch Ultra which wants to see bigger at all levels.
"A watch for exploration, adventure and endurance". It is in these terms that Apple inducted its new connected watch on Wednesday during its back-to-school conference held at the Steve Jobs Theater in Cupertino. And for Tim Cook, it's even a "new category" among the Apple Watch, a product apart. Whispered like a "Pro" watch, the Apple Watch Ultra is presented above all as a separate product, for the most ambitious.
First of all because it is the result of several years of reflection in order to meet the most demanding Apple Watch users, those who push the limits of their watch to the maximum in terms of activities in particular, that they are done indoors, outdoors – mainly, but also in the depths of the sea. For these lovers of extreme activities, there is now the newcomer.
Massive design
What surprises the most when you take the Apple Watch Ultra in hand is its size. It is much more imposing than its sisters, from which it nevertheless takes the same basic design. It sports a straight look, with its rectangular titanium case and its sapphire crystal glass screen, while the back is in ceramic.
This is also one of the surprises: the Retina screen is the largest in the range with its 49 mm, but it can also accommodate Apple Watch bracelets of 45 mm (also cases of 42 and 44mm). Despite its dimensions, the Watch Ultra is much lighter on the wrist than it looks. On a small wrist, it will remain very imposing.
To support that large, always-on display (up to 2000 nits of brightness, double that of a regular Apple Watch), Apple has topped the case with some kind of upright reinforcing structure. This choice is not insignificant or an aesthetic coquetry, far from it. Its purpose is to surround the screen so that the structure of the watch resists all shocks and protects it as much as possible. In addition, this outgrowth compared to the other Watch Series 8 and Watch SE 2 has the merit of better highlighting the reception antenna.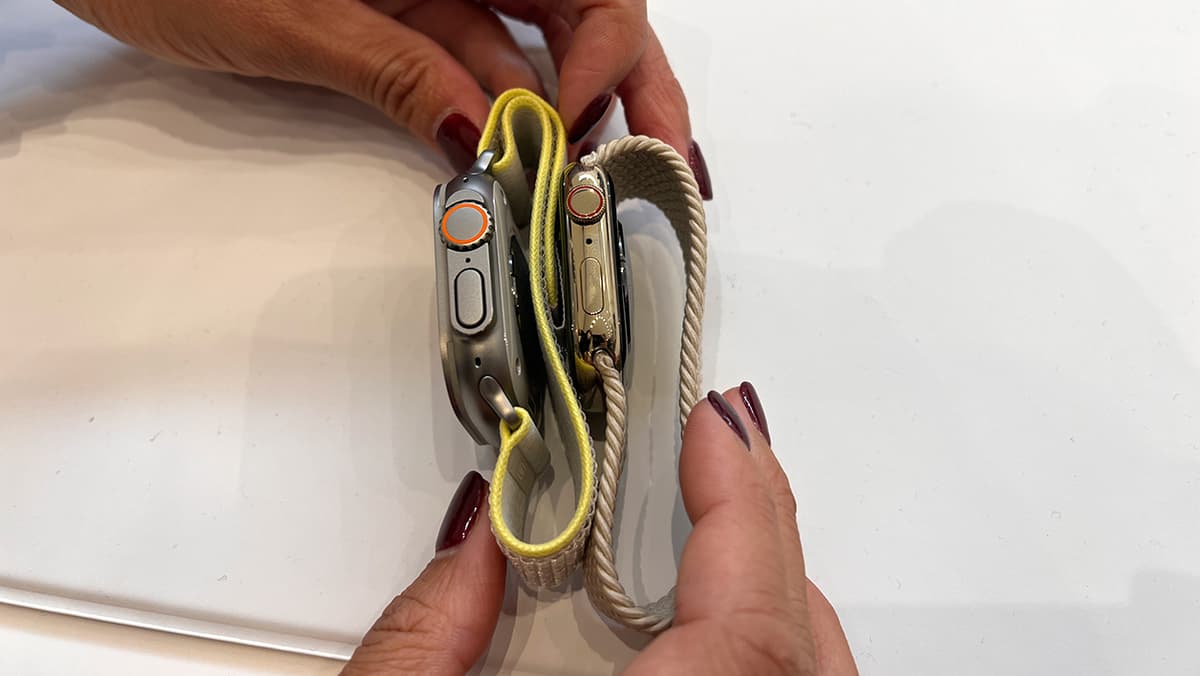 High-end GPS
Because the Watch Ultra is natively equipped with a 4G / 5G connection, in addition to GPS. And to ensure that it picks up in all circumstances, Apple has positioned an antenna on the strapping all around the screen. This allows the watch to add more GPS frequency bands (L1+L5) and network to have better reception in the middle of the mountain, or in a canyon. It will also offer more accurate data in mapping, to measure running speed, pace, distance, etc.
Visually, there are also some notable changes such as the digital crown which has been redesigned and is more massive than usual in order to be accessible and usable at all times. Whether you're running with gloved hands or diving underwater, it's protected in a side metal structure with the function button to avoid taking a hit, while remaining easy to use. However, you slide your fingers over the crown or the button quite easily to access the menu, options, validations, etc.
The big novelty is on the other side, with the Action button to customize, quite visible with its orange tint. It allows quick access to a selected function (Activity, stopwatch, compass, dive, torch etc.). Next to the button, there is a new speaker to hear in any external condition (strong wind mainly). If you are on a cellular call, the three microphones present, capable of focusing on your voice to highlight it while limiting surrounding noise, will also be of great help.
You should know that the Watch Ultra has exactly the same sensors as the Series 8 (latest generation accelerometer and gyroscope, improved barometer, altimeter, GPS, ECG sensor, heart rate monitor and oximeter) and now even the temperature sensor for monitoring menstrual cycles with ovulation estimate. We find the same processor as that of the Series 8, more efficient and more economical.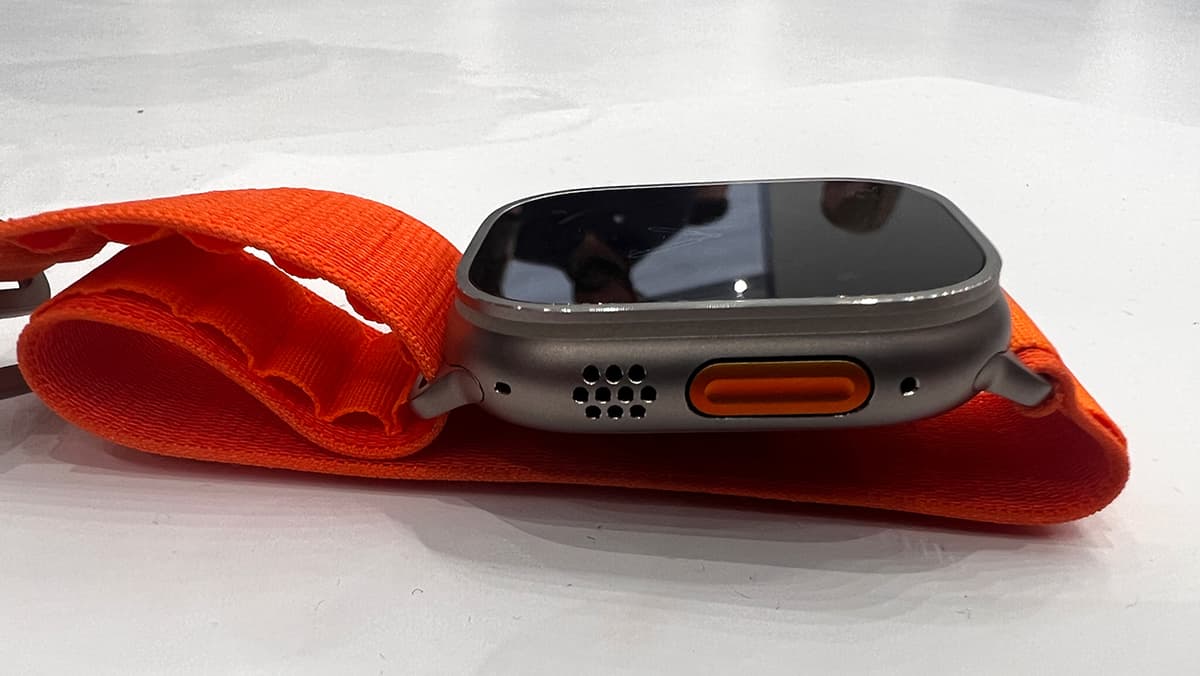 Niche product
On the autonomy side, Apple has seen much wider than on its other watches in order to meet the expectations of demanding users, who will need to experience the Watch Ultra in greedy activities, soliciting all the sensors. The watch announces 36 hours of autonomy, increased to 60 hours with the Energy saving mode.
Like the latest iPhone, the Apple Watch Ultra is able to detect falls and a car accident thanks to its more powerful sensors. Its resistance has been improved (IP6X dust certification, water resistance up to 100 m in immersion (for diving, measurements are taken up to 40 m deep).
When in the middle of the seabed, the user can switch their screen configuration from day mode (bright) to night mode (black and red). The device also has a system to trigger an alert if you are lost. The signal is designed on a (rather strident) frequency that can be heard nearly 80m from the user. It must be said that the announced signal reaches 86 dB.
At first glance, the Apple Watch Ultra seems to be a fairly high-end connected watch in its proposal and its possibilities, but reserved for a niche of ultra-sporty users, lovers of extreme outings and ready to put the watch to the test. . It is quite pleasant on the wrist and offers bracelets designed for sports and hiking with easy attachments and resistant material. But at a price high enough to tickle Garmin and its specialized watches.
Apple Watch Ultra price and availability
The Apple Watch Ultra will be available on September 23 from 999 euros in Ocean, Trail or Alpine bracelet. Pre-orders have started.