The brand is committed to donating part of the profits to the Ruban Rose association which fights for awareness of breast cancer screening.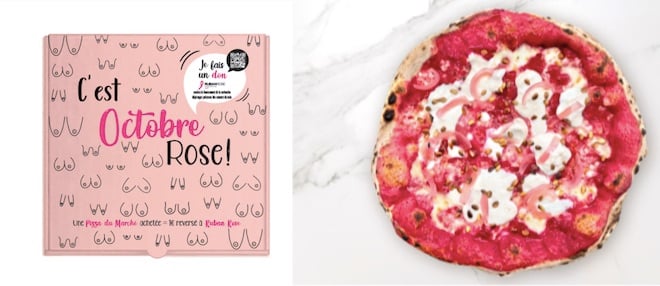 This gourmet and committed pizza is an ephemeral recipe created especially for the Pink October campaign. Credit: DR
See also
The opportunity to enjoy while doing a good deed. This year, the pizzeria brand established in France since 2016, Pizza Cosy, has decided to participate in the Pink October campaign with, unsurprisingly, a very pink pizza! It will be distributed in its approximately 50 restaurants from October 3 to 30 to support the campaign.
And for this ephemeral and original recipe, gluttony is essential! Indeed, the executive chef of Pizza Cozy, Magdiel Rubio, has imagined a pizza that is not only all pink but also very tasty. A beetroot cream, seasoned with onions and spices (and a good pinch of love), for the base which will color the pizza then creamy burrata, pickled red onions and roasted pine nuts will come s add on this committed pizza.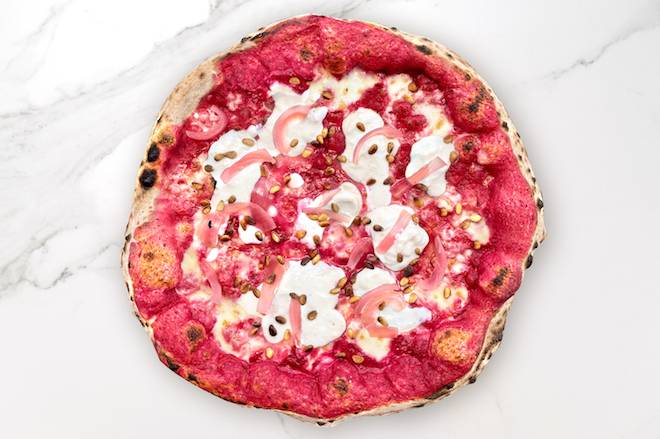 Pizza Cozy will be offering this all-pink pizza for the Pink October campaign and we're already licking our chops. Credit: DR
A pink pizza for the fight against breast cancer!
Pupils and taste buds will really love this colorful recipe! It has everything you need: crunch, pep, creaminess and above all a lot of indulgence. Vegetarian, it is therefore for everyone and will seduce you for sure. The pizza is served in a specially designed box. As for the price, count €9.90 for the small pizza and €12.90 for the classic. For each sale, €1 will be donated to the Ruban Rose* association in order to "raise awareness of breast cancer screening, advance research and support people with this disease".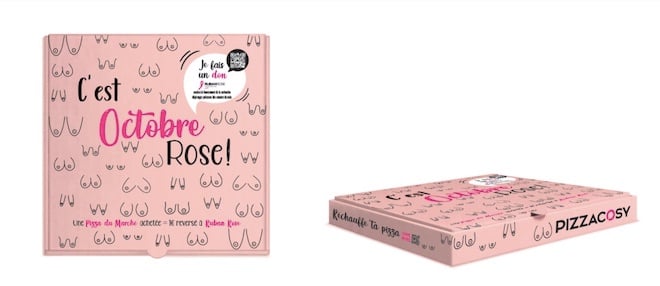 The special Pink October pizza will be served in an original box and for each sale, €1 will be donated to the Ruban Rose association. Credit: DR
This is not the first time that we can fight against breast cancer while having fun! After Venus de Milo-shaped ice cream or breast-shaped cookies, it is therefore with a pizza that you can do a great deed while enjoying it. Then find the very pink pizza in all Pizza Cozy restaurants from October 3 until October 30!
Pizza Cosy, a committed pizzeria
Beyond delighting our taste buds with its gourmet pizzas, the French brand Pizza Cozy is committed all year round through several associations. An annual partnership with the Or Bleu association (for the construction of wells in underprivileged countries) or a regular commitment to the Restos du Cœur and the Secours Populaire, Pizza Cozy wanted this year to participate in the Pink October campaign in its own way. with the association Ruban Rose.
"We are all affected, directly or indirectly, by this disease which affects more than one in twelve women in the world. I wanted Pizza Cozy to collaborate this year with the Ruban Rose association to provide them with funds and support this cause that is close to our hearts. And let's not forget that screening is just as important for men, who can also develop breast cancer.", explains the co-founder of Pizza Cozy, Florent Mercier.
We can only applaud this solidarity and gourmet approach and we can't wait to be able to enjoy this all-pink pizza!
*"Ruban Rose is the first association in France dedicated to information on breast cancer and early detection. Created in 1994 by the Estée Lauder group and Marie Claire magazine, it has a dual mission: to raise public awareness through an annual information campaign (Pink October) and to raise funds throughout the year. to support research thanks to the Pink Ribbon prizes which reward the work of targeted projects".
Subscribe to the Demotivator Newsletter!
By entering your email address, you agree to receive our newsletter